Thomas Hogue meets Susan Taylor, founder of ABADI/BDI/GCC
Article written and published in 2006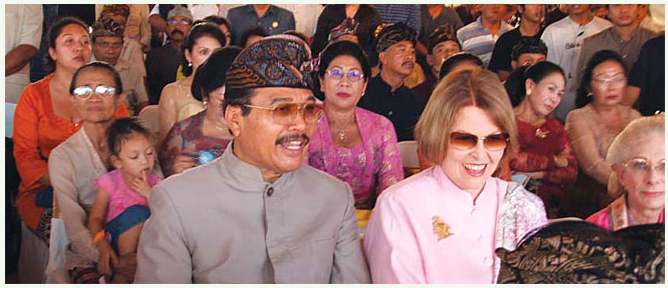 Susan Taylor may have never said "world peace" was her one wish when she was a young woman winning beauty contests in the early 1960s in Australia. But if she did, she must be one of the few such beauty queens to end up doing something about it.
"If we are to reach real peace in this world and if we are to implement a real commitment against war, we shall have to begin with children," Mahatma Gandhi said in 1947, and Susan has begun with the children in Bali.
She's just turned 60 and doesn't "titter or whitter" about it. "Never lie about your age, dear. There's nothing to be ashamed of," Sheila Scotter, the editor-in-chief of Vogue Australia, advised Susan when she was a young fashion model.
"Age has many benefits, each decade brings its own special kind of wisdom that the previous decade didn't reveal," Susan adds. "Once you come to 50, it's a time when if you've never given back, it's definitely the time to start."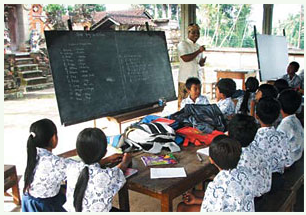 The past three years in Bali she's been privately funding the children's education and cultural heritage programs that this year became legalized as the Yayasan Bhakti Dharma Ikhlas, or 'ABADI' (Indonesian for 'forever'). From a start in late 2002 with an English class of 35 students at a school near Tegallalang, ABADI now reaches 438 children a week with English classes in the Ubud area.
Additionally, in collaboration with the Rudana Museum, the Cenik Wayah Program, and ARMA Museum, 130 children are being taught traditional Balinese music, dance, and painting. In September, ABADI will also launch with landscaping and gardening company Design by Nature a garden-nature-environment program to "encourage children to respect nature and express a love for the beautiful island they live on by protecting their environment for their future."
Susan's interest in working with children goes back to her modeling days in Australia. After entering and winning several beauty competitions, she won a place in 1966 with an Australian government trade mission taking foods, wines, and fashion to the Philippines and Hong Kong.
On that trip she was struck by the disparity between the very wealthy of Asia and the very poor. The trip, however, didn't immediately lead to a life of social work, although it did expand her career and move her to Hong Kong.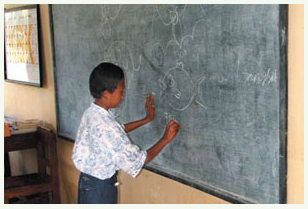 "I have these wonderful funny memories of sitting in Chinese hairdressing shops getting my hair shampooed, sitting in a cheongsam in a barber's chair, gesticulating and trying so hard to communicate in broken Cantonese to a non English speaking barber what style was needed before rushing off to a fashion photo session " she says.
The Hong Kong work led to work for the Filipino couture designer Aureo Alonzo, for Triumph International in Japan; then the Parisian designers started calling, including Yves St. Laurent, Lanvin, and Pierre Cardin, and they were followed by the Eileen Ford Model Agency in New York.
Except for being a soft touch for streets kids everywhere, the interest in social work was kept in the back of her mind. Then after two high profile husbands – who bumped career into second place – and an accompanying social life that included diplomats and royalty, famous physicists and movie people, Susan began looking for something more.
"I became very disillusioned with a lot of the trappings of that lifestyle," she says. "I'd become more and more interested in the humanities, and I'd done in depth studies of meditation and biofeedback and nutrition and Eastern philosophy."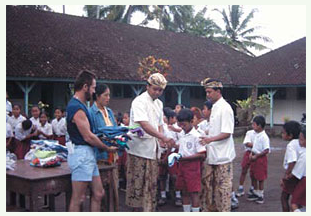 There was also a degree in psychotherapy earned at the Group Dynamics Institute in New York City. Armed with that and studies in yoga and meditation, she opened a counseling and alternative healthcare practice in Beverly Hills in the late 1970s. A few years later, that road led to more spiritual studies in India, back to Australia to open a second counseling practice, and finally to Bali, where Susan at last got the chance to make charitable social work the central part of her life.
In December of 2002, a couple of months after the first Bali bombing, she was headed back to Australia after volunteering during the bomb's aftermath. "I had to go back, but before I went back, I wanted to do something for the kids," she says. So, she asked the poor families in her area what they wanted for their children. "I'm not a rich lady, but I wanted to help them. They came back and said, 'Please, teach them English' – that surprised me – 'and we'd like a cultural arts program for the children.'"
By the beginning of 2006, over 400 students have benefited weekly from the English language program, which is currently in seven schools and four communities. And in addition to the cultural heritage program there is a clothing donation program begun with the help of two Australian brothers who read about Susan and ABADI/BDI/GCC in a magazine article in 2003.
Susan plans to expand her focus eventually from ages 6 – 13 to include youth up to the age of 21 and hopes one day to offer ABADI/GCC's services in all nine provinces of Bali.
See www.globalchildrencare.org for more on ABADI/BDI/GCC and information on becoming a benefactor, sponsor, or volunteer.
Thomas Hogue is a freelance writer living in Bali with his wife, son, and overweight Kintamani dog. He grew up in Taiwan the son of missionary parents and has lived in Asia more than 25 years. He previously worked for nine years as a business journalist in Singapore.