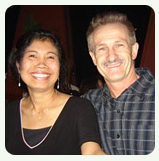 Steve and Tuti his wife, and his brother John, are the original creators of GCC's clothing donation program and generously donate their time every year to collecting clothing and receiving donations of clothing for the children. They also personally donate clothes and other study materials regularly for the children.
Steve was inspired to assist GCC after reading an article in a local magazine about the early work of GCC in late 2002 after the first Bali Bomb, he contacted our President and a continuing relationship with GCC began.
Steve and Tuti organize several clothing donations annually for our primary school aged children, who receive these donated gifts with smiles of delight. During their annual visits to Bali they personally distribute the clothing in the schools.
Steve has worked as a landscape gardener for a number of years after working in the Royal Australian Air Force (RAAF) as a young man. He now works in the Mining Industry and he and his Indonesian wife and young son live in Western Australia. He shares an interest in our environment program with our President and Public Officer.
Tuti his wife, is an Australian Accredited Family Day Care operator and manages her own home based Family Day Care service.