Empowering Balinese Children to Achieve Their Dream
Original Article Published in October 2008
I want to be an animal doctor because I love animals," says 12 year old Ni Komang  When asked how she has benefited from Global Children Care's (GCC) study programs she responded, "The environment program has taught me more about nature and I really love to look after the school garden and learning how to plant trees was good."
Achieving Dreams is Possible
Just seven weeks after the 2002 Bali bombing Australian Susan Taylor launched CGC in the place she had long developed an affection for and the results have been that many children like Ni Komang  are getting an improved education and are learning that achieving their dreams is possible.
Susan's interest in working with children goes back to even before her days as a model in Australia. After winning several beauty competitions and becoming a successful fashion model, she joined an Australian Government Trade Mission taking food, wine and Australian Designer Fashion to the Philippines and Hong Kong. She was struck by the disparity between the very wealthy of Asia and the very poor – a disparity that still exists in many parts of Asia.
"Seeing a very young child begging in the streets and selling cigarettes one at a time by the roadside caused a wrenching feeling akin to grief in my heart. I can still recall the expression in that child's eyes all these years later," Susan relates.
Moved to Help
"I think even as a child I was always helping," she continues. "When I lived in New York, I volunteered and established a program for teenage drug addicts at a major centre where I was studying to be a therapist. Later in India, I worked again with village street until the early 90's."
However, it wasn't until later that she became involved with Bali. "I was doing a commercial interior design project for two Australian developers, and living between the US, Australia and India.
They put me up in what was then the new Sydney Intercontinental Hotel. One day I was dashing through the lobby on my way to a meeting when I noticed a tent card on the reception desk saying that if you stayed so many weekends, you could win a trip to Bali! At the meeting I asked the developers if I could stay through the weekend; they agreed and I won the trip to Bali!"
It was to be a trip that would change Susan's life. "On my first visit as a tourist, initially I didn't see the true conditions that exist here for many people until I asked to visit some villages away from the tourist areas. When I saw the condition of the children, I quietly became determined to make a difference.
I could see behind the popular misconceptions that many Westerners have, that because Bali is an international tourist destination, there aren't any destitute or poor people here! This is so far from the truth."
Made a Bad Situation Worse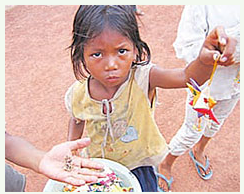 For the poor of Bali, the 2002 bombing only made a bad situation worse. "As we raced down from the hills to Sanglah hospital," Susan relates, "I tried to come to terms with how this could happen and why. When I arrived and began working with the injured and the medical and evacuation teams, an icy stealth crept into my heart, and I thought, "This will devastate everyone's livelihood for years to come!" Which it has.
Susan returned to Australia to see how she could organise some support. "I quite simply began putting my own funds in, and set up what would become the parent organization of our two organizations. The parent organization is Australian. We also set up a sister organization in the United States." Why does she do this work? "There were people starving in outlying villages before the bombing," she explains.
They had insufficient medical care, and the average person lives on a monthly salary of $60 or less: that is just $2 a day to support a family on! In the past two years the suicide rate has increased and many many people still don't have the basics for themselves and their children. Public school education is not free in Bali for disadvantaged village children.
A Small Start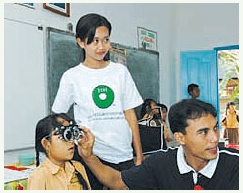 The GCC organization began as a privately-funded social program in the Gianyar area of Bali. "I saw the need for an organisation that could provide education and health care programs for disadvantaged Balinese children. We began by providing assistance to the poor villagers who asked for education programs and clothing for their children.
We started with one small village school with 35 students and one part-time teacher and some clothing donations." Through the hard work of Susan, the staff and her supporters, GCC has helped bring benefit to over 10,000+ children in eight communities and thirteen  village schools.
"In 2008 we began our healthcare programs that within the first year brought ongoing benefit to an additional 1,100 children," Susan says. "We have received additional requests from other village leaders to assist in the education and health care of their children. I am grateful to have built up a small but wonderful team of Balinese teachers and field staff and Australian volunteers, without whom I could not have grown the work."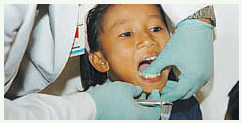 Susan says the mission of GCC is to, "Motivate the children we serve and empower them to achieve their goals and to live their dreams. We want them to break out of the cycle of poverty, and to help them do this, we provide them with an improved standard of education plus we mentor adult members of the communities. We work collaboratively with the communities we serve in a consensual manner. Respecting their religious beliefs, cultural values and customs is very important to us."
GCC offers classes in English language and literacy, provides a much-needed environment program and a life values program, as well as healthcare and a cultural heritage arts program.
Dedicated Teachers
Susan explains: "We are licensed through our organization to go into the village schools and teach all these programs. I feel very blessed that our teachers are so dedicated and committed to making learning a positive experience and fun, especially for the youngest children. In the early school years, how you are taught is critical and determines whether you develop a love of learning throughout your life. Our teachers are passionate about delivering a high standard of teaching and care to the children."
Like many organisations, fund raising is a big challenge. "We have always placed the cost of delivering the programs above everything else." says Susan.
More Support Required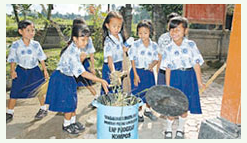 In 2008, apart from receiving dondations from multiple donors, we unexpected some support from Advam Australia and the Priscilla Hall Memorial Foundation, which has been a great boost. "While it isn't the major funding we need to continue in 2009, I was profoundly grateful when I received their emails offering support. Just recently we've taken on another village school which asked for our help, and our resources are somewhat stretched," Susan states.
Since 2003, GCC has been operating as the parent non-profit organization Global Children Care from Australia; followed later on by Global Children Care USA a United States non-profit that was officially registered in 2007 and then registered again as a charitable project in 2010 under the United Charitable Programs in the USA.
Learning to Dance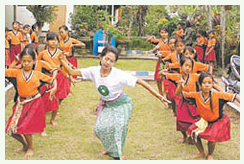 Ni Made Ariyanti, who would like to be a medical doctor, says she really enjoys GCC's cultural programs, because, "I have learned more about how to dance."
Another 12 year old, Kadek , who would also like to be a professional footballer, says the Life Values program helped build his self-confidence.
"It has helped me understand myself," says 13 year old Kadek Sukrandana, who also wants to become a professional soccer player, "and how to have a better life."
Undoubtedly there are many more Balinese children who would benefit from Global Children Care's programs and you can be assured that Susan Taylor will be doing all she can to keep the programs going.
Contact Details
Susan Taylor: Global Children Care from Australia
Email : info@globalchildrencare.org
Website: www.globalchildrencare.org
The original source : XL Results Foundation Blog